This month's blog is written by cycle BOOM participant, Paul Taylor, who enjoys cycling in Oxford. Paul explains his cycling trajectory and offers some insight into on how he manages to overcome the risks of cycling in order to reap its rewards.
Nothing in life, including cycling is risk free. However the fun, freedom and the health benefits seriously outweigh the risks in most cases.
By today's standards I learnt to cycle quite late (eight years old). Almost immediately, my bike was my transport and passport to freedom and fun. This lasted until I passed my driving test. In my twenties and thirties, my bike was hardly used. The interest was rekindled when I taught my daughter to ride at around three years old.
Moving to the foothills of the Alps in France, cycling took a more serious direction. I joined a local cycling club and spent Sunday mornings climbing mountain cols. I still had my W F Holdsworth from my teenage years. One or two outings with the club confirmed that both fitness and equipment are important. The trusty old steed was traded in for the first of many upgrades. Cycling became a means of keeping fit and active, as well as fun and relaxing from the stresses of life.
In my professional life I help organisations manage their business risks. I apply risk management to my everyday cycling. Climbing mountains and descending at speeds of 50mph certainly increases risk, but what an adrenaline rush and sheer pleasure to do it! To travel at those speeds, the risk needs to be managed to an acceptable level including total confidence in your bike and anticipation of what could go wrong. I did develop speed wobble a few times but managed to regain control of the bike. This is perhaps an extreme example of the Risk/Reward Relationship.
Now in my mid-60s, cycling has once more become a means of transport as my wife and I are now living in Oxford. The pleasure of getting around on a bike is a highlight of city living for me. No frustration from being stuck in traffic or hunting for a parking place, just the pleasure of being able to explore the city and stop where and when I want to. I can do the errands easily and stop for a coffee en route.
While enjoying the experience there are still risks that need to be managed. These relate to equipment, the environment and behaviour.
I find that the right bike for the job is very important. I have several machines ranging from a 1960s BSA to an up to date racing bike for the open road. The BSA is perfectly adapted to urban cycling. An upright position helps being seen but also gives me a good view. The wider tyres and bomb proof wheels are less vulnerable to poor road surface and potholes. The age and look of the bike make it less likely to be stolen.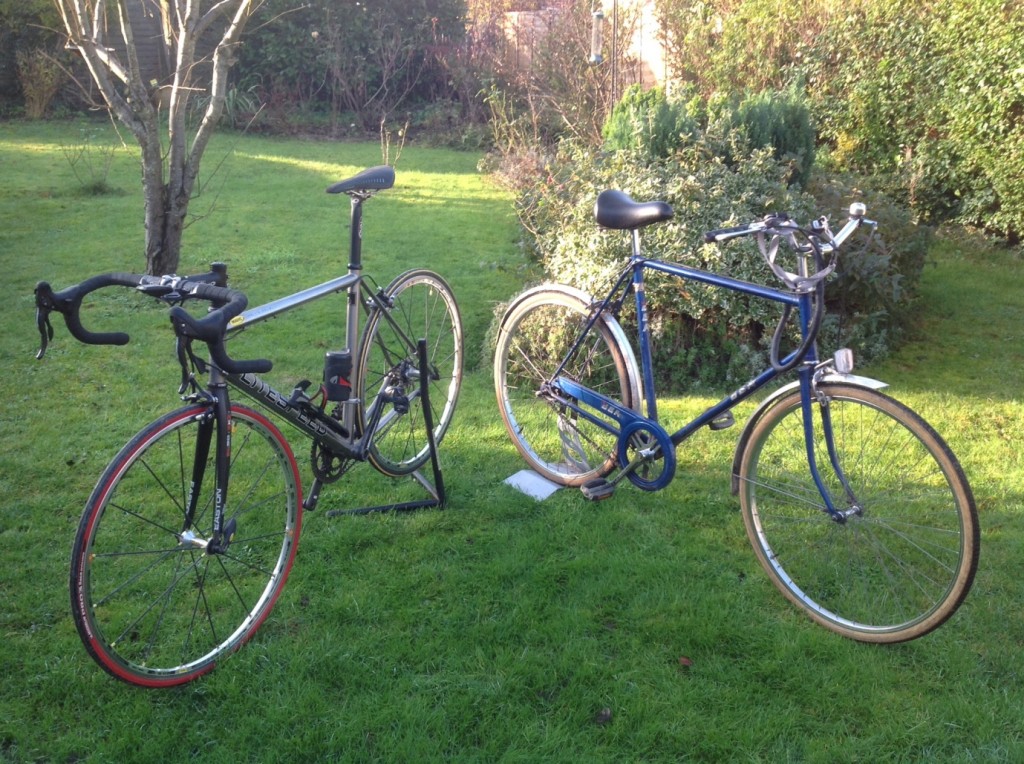 On the behavioural side, confidence, together with a level of assertiveness, a respect for other road users and anticipation of potential hazards all help to maintain the pleasure while reducing vulnerability to accident. This requires concentration especially in heavy traffic. (Is that parked car going to suddenly move off or will its door suddenly open? Can I react quickly enough if another road user cuts me up? If I slow down a little, will the lights turn green?). As the cyclist we have a lot of flexibility in responding to these potential incidents.
There is still a lot that can be done to make urban cycling a more pleasurable and safer experience. During my outings I see that some of the cycle paths are in poor condition, the separation between pedestrian and cyclist is often poor, dedicated lanes on the road collect muck, rubbish and gravel leading to a more hazardous road surface. These lanes sometimes start and end in inappropriate places for cyclists. With good pro-active thinking, these can all be managed to a satisfactory level. How much better though if the road conditions were improved.
So how do I manage that risk/reward relationship? The table below highlights the two main urban cycling risks and gives a few ideas on how I control them. As I said at the start of this blog, if you want to cycle today, you have to take some risk. It's up to you to decide how much and what precautions you take control those risks to level where you can enjoy the benefits of cycling.
Have fun and stay safe.
Risks
Ideas to manage the risks to a satisfactory level and improve confidence
Accident/injury
Equipment and environment

Bike well maintained (brakes, tyres, etc)
Selection of route (road surface, traffic, cycle lanes, etc)
Respect and use of road controls (traffic lights, junction controls, pedestrian crossings, etc)
Personal protection (helmet, glasses, gloves, trouser clips, suit of armour, etc)
Lights, bright clothing, etc

 Attitude and Behaviour

Assertive style of riding taking possession of your area of the road. Hand signals
Co-exist with and respect other road users. Think as a driver and a cyclist.
Aware of higher risk or difficult points on the journey (cross roads, cycle lane crossing road, etc)
Stay on your bike, learn to ride in the traffic. Don't get off and push if you are outside of your comfort zone. Next time it will be easier and your confidence will build.

Bike breakdown/theft

Bike well maintained (brakes, tyres, etc)
Avoid poor road surface and potholes
Avoid leaving expensive bikes in high crime areas
Use a quality lock when you leave your bike.