This quote came from one of our cycle BOOM participants after he had been riding the Raleigh 'Motus' e-bike for a couple of weeks, as part of his 8-week 'wellbeing and cognition' cycle trial.  Read on to find our what others on our e-bike trial have been saying.
First, a little background on the wellbeing trials; participants first complete questionnaires assessing psychological wellbeing and complete a series of computerised tasks that assess memory, attention and speed of thinking. The participants that previously were cycling rarely are then asked to cycle (either on a pedal bike or a 'Motus' e-bike supplied by our Partners at Raleigh) for at least half an hour, three times a week, before repeating the same wellbeing survey and computerised tasks.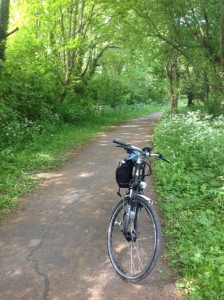 For example, they do the Stroop and Erikson Flanker tasks on the computer.  During the Stroop task participants report the colour of the ink that a word is presented in whilst ignoring the written word, which is also a colour. For the Erikson Flanker task participants respond as quickly as possible to the direction of an arrow presented among distractor arrows.
Before starting the trial, many of the participants express concerns about cycling in traffic, cycling up hills and general level of fitness preventing them from cycling to places further away from their home.  In addition to an initial, brief, training session (helping people with feeling more comfortable cycling), the trial helps with increasing physical activity.
Past research has shown that physical activity can help maintain mental function and improve a sense of wellbeing. It has also been proposed that stimulation from cycling in the natural environment and interactions during the ride can have similar effects. This is what we are investigating with the conventional and e-bike trials. Does cycling with less physical exertion on the e-bikes still improve wellbeing and cognition?  It has been demonstrated in a recent study that attending art classes, and the stimulation gained from these experiences, can improve cognition above exercise alone.
Preliminary reports from our participants suggest some improvement in the tests in all the cyclists after the intervention. Many of the pedal and e-bike participants are experiencing increased psychological wellbeing, fitness, and cognitive ability after completing the trial. At the end of the study, we can see whether these self-reported experiences are reflected in actual improvements in the computerised tasks. The majority of the participants that have completed the trial have indicated that they will continue to cycle and some have enjoyed the e-bike experience so much they have purchased one after completing the trial!
During the trials the participants are asked to document their experience in a Diary of Cycling Experience (DoCE). The diaries will allow us to develop a richer understanding of the impact of cycling and the effect of the experience on the participants. For example, is electric bicycle technology providing new opportunities to explore different geographical areas, travel greater distances and reduce concerns about tackling hills?
The diaries are also providing extremely useful information on participants' reflections whilst taking part in the eight-week trial. Many participants have commented on how the e-bike enabled them to investigate new areas that they would not otherwise have been able to cycle to:
"Pleased to cycle to Sonning Common, enjoyed it and quite proud of the achievement."
Others have commented on the combination of increasing mobility as well as fitness by using the e-bike:
"The e-bike trial has been very interesting. The e-bike is really good – practical personal transport with a bit of exercise. Lost 5kg over the 8 weeks."
Another important aspect is that an e-bike can enable an environment in which the participant feels comfortable re-engaging with cycling as they have to worry less about physical exertion during the ride:
"Overall have really enjoyed the e-bike and getting back my confidence of cycling. Have avoided really busy roads as much as possible with pre-planning routes and exploring.  I've returned to being a cyclist and will keep pedalling!"
Others have commented simply on the enjoyment they get from riding the bike:
"Pleasant to go out … cycling with my husband. He said how hard it was to keep up with me on the uphill bits."
"First real Spring-like day. It was a pleasure to cycle! "
"Cycled for fun. Lovely, didn't have lights so didn't go so far but really enjoyed the freedom."
"Group cycle ride with village friends. Great fun – hills were less daunting than in my head. Having companions gave confidence."
"Cycling felt very liberating."
However, there have been some things noted that can be improved with cycling experience:
"Bike quite heavy to control. Was very wary about cycling such a distance in traffic – bit scary but made it home in one piece and not too washed out!"
"It will take me a long time to get used to the electric bike – it feels weird. It is so heavy, with the battery and motor. I struggle to lift it to turn around or get it up a kerb, I wobble when I set off, but then the motor makes it feel as if i am not having to expend much energy when I am cycling."
"I was tentative on the bike to begin with as it was a long time since I've ridden in traffic, and Oxford traffic is scary!"
"Surprising how even slight gradients seem quite steep when your legs aren't used to it!"
By the end of October 2015 the cycle BOOM team hopes to have completed data collection with all participants of the e-bike and pedal cycle trial and our aim is to report the full results during the first quarter of 2016…….watch this space!
To hear one participant's experience of completing the trial (on a pedal bike), see an ITV Meridian news report on cycle BOOM here.
Nick Beale is the Project Manager on the cycle BOOM research project at Oxford Brookes University. Contact him at nbeale@brookes.ac.uk