by Kathryn Johnson, cycle BOOM participant.
Having cycled from a very young age (see photo below), I wanted to join the cycle BOOM project as it sounded  a worthwhile  way of encouraging other people to cycle – whatever their age.
Cycling has been a way of life since childhood – commuting to school, Brownies, Guides, Duke of Edinburgh Award evening classes and eventually to work every day. During the summer holidays in Oxford my brothers and I would travel along the local lane to the park – without any adults – and zoom up and down the mud dips never coming to any harm.  Today children would usually be accompanied on such trips as there is more media coverage of  "dangers" and more traffic than in my younger days.
Me on my new bike in 1989, the photo was taken for insurance purposes – but I am still riding the same bike
I am now in my fifties.  My husband in his 60s also cycles daily. We live on a cycle route into Oxford and often ride in to restaurants and the theatre in our leisure time.
Cycling is my favourite mode of transport as I am control of my own destiny – I have freedom and independence – I keep fit and healthy – body and mind, I enjoy the lanes and by-ways – I arrive on time – I don't wait for buses.  The only downside is the weather – but on goes the cagoule and plastic leggings and off I go!
I do have a car. It has regular use at weekends as it is time-consuming to bike everywhere and doing the weekly shop would make cycling impossible unless we got trailers to carry the load. We also use it to transport other people or to go on holiday, again carrying heavy loads; or on visits to isolated National Trust country houses when we have to use the car for convenience.
My enthusiasm for cycling was passed on to my daughter who cycled to school. She now works a long commute away, so does not use a bike much.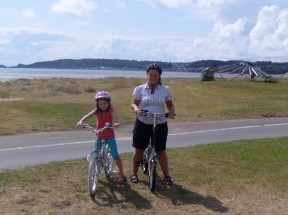 Photo of me and my granddaughter  cycling in Wales, August 2014
However as part of my latest bike adventure – a fold up bike – I have taken my granddaughter on her first seaside ride from Mumbles to Swansea enjoying the Welsh sea air (see photo above).