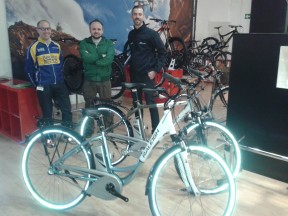 With the cycle BOOM project now in full swing, we are busy planning the months ahead including the electric bike (e-Bike) trials this summer. These will be examining the impacts of this assistive technology on independent mobility, mental performance and wellbeing in comparison to regular cycling. For this we need some quality bikes and our partners at Raleigh UK have kindly agreed to help us with the supply of 20 e-Bikes from their latest range.
So, this week, Ben Spencer and I made the trip to Raleigh HQ in Nottingham to meet Raleigh's Marketing Manager Ben Hillsdon, and e-Bike Project Manager Richard Dobney, to review and select the bikes we need for the trials.
Currently Raleigh has 12 e-Bikes in their branded range, but also distribute other brands of e-Bike from within the Dutch parent company including Haibike in Germany.  Haibike has been developing e-Bikes for several years and has established a very stylish range of electric mountain bikes and road bikes, some of which were on display in the Raleigh showroom.
All the bikes use advanced crank-driven (where the pedals are) or hub-based (in the centre of the front or more usually the rear wheel) electric motors and the latest Lithium-ion battery systems. These batteries are much lighter, smaller and longer lasting than the first generation technology, and can give a range of up to 50 miles; to re-charge, the battery is simply removed and plugged into the mains.
The first thing you notice about the Raleigh e-Bikes is that the overall look is not much different to a conventional hybrid or city bike, apart from the battery that either sits behind the seat tube or atop a rear pannier rack.  The look of Haibike's e-mountain bikes is on another level…..simply stunning.  Check out the beauty below…..yours for £6k!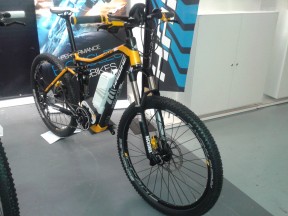 Using an e-bike is simple; you just get on and pedal as normal, but can engage the electric boost when you need to, for example on a steep hill.  There is a small control panel on the handlebars, where you select the level of assistance you require (there are usually three options: low, medium and high). You keep pedalling and the torque sensor does the rest and controls the delivery of the additional power.  In the UK, assisted speed is limited by legislation to just over 15mph, but this still means you can flatten those hills; so those guys/ gals who think they are super fit might be in for a surprise!
So what model did we choose?  Well, we resisted the temptation to take one of each on display and opted instead for the latest unisex step through model.  I must thank Ben and Rich at Raleigh for being great hosts and supporting our project. We look forward to the delivery of the bikes in late Spring 2014, and commencing our first set of trials in the Summer.
Nick Beale is the Project Manager on the cycle BOOM research project at Oxford Brookes University. Contact him at nbeale@brookes.ac.uk